I will try to be as honest as possible in describing this experience. First, let's start with the booking.
I have been traveling with British Airways (BA) for the past 5 years. They do not compete on bargain price for a trip around Europe for the price of a sandwich, but I find them good value for the comfort, security, and the whole experience. Now, like every other travel or leisure industry business, they have taken a hit... 🤕
My experience starts with my request to get my March 2020 return ticket (which they cancelled!) either refunded or converted into a voucher. Back in March, as soon as the flight got cancelled,
I applied for a voucher
. In the dire situation we were in, I thought this would get me more chances of getting what I asked. And I also thought that I will continue to fly with them anyway, so let's give them a break, not ask for a refund but for a voucher. Their automated system confirmed my request with my booking number, and a week later I received their answer. I am way too naive it seems, because I was really expecting a voucher. Instead, I got an email saying that I had badly entered my booking number (the one they confirmed was correct a week earlier) and therefore they could not issue a voucher. That's what you could call
an automated deception system
... I got too busy with other things and had set this aside for a few months.
They had seemed to win at the first No 😳
.
As I booked my tickets for this mid-October trip, I took the chance to request again a voucher (via the same online form). A few days later comes the reply:
"Unfortunately, your booking isn't eligible and we can't exchange it for a voucher the booking reference provided has not been recognised"
. Followed by a
"We apologise for the inconvenience"
which is supposed to give me a morale boost.
They seem to have won at the second hurdle
and with 6 months delay... 😡
So
I booked my October trip with real money 💶
, not with any funny voucher money...
The booking experience was the same as before, so I paid for a return ticket for myself and my wife, from London Heathrow to Malaga. We used to fly from Gatwick, but I am afraid that this part of outer London will one day convert into a Museum of Aviation... Mind you, there is so much tarmac that it could be re-purposed for a very good go-cart experience one day...
Back to the booking...
Where it changes is when you get closer to the check-in day
. Suddenly, there comes a barrage of identity check from all those who want to know who you are and want to keep a record of this for the next 25 years. Of course,
BA have my record
and I expect no less from them than to keep them safe 😇 and share it with the relevant authorities on a need to know basis. Talking about this, their fine for security breach -
having leaked data of 400,000 customers in 2018
- got reduced yesterday from initially planned £183m to now only £20m. Anyway... assuming that BA is a safe place to put your passport and credit card details in, now
you seem to be forced to register your personal details into additional websites
. Because of the threat of not being accepted on the plane, or not being accepted at destination, you seem to have no choice but to comply.
So first, there is this website called
iatatravelcentre
(https://www.iatatravelcentre.com) which will want to capture a lot of your personal data in a very dated user interface. As you have no choice, you do it and finally reach the last page (3 of 3) where you expect that they will give you a kind of code to reuse, or approval of some sort to prove that you can fly... But no!
The only thing you get in exchange of having given them all your data, is a nice message on the final page saying that you are OK to go. 🙄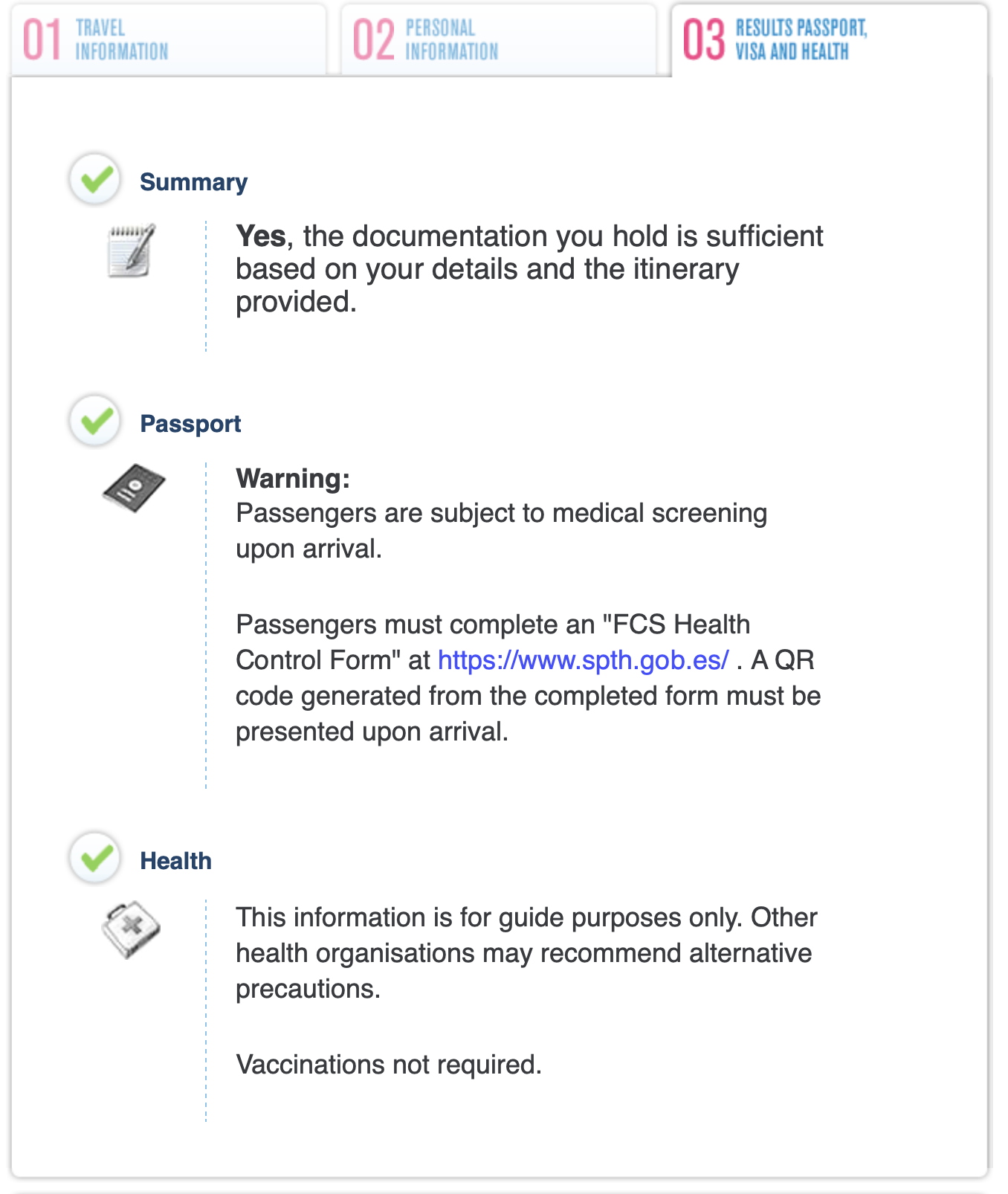 Finally they add a small link for you to repeat the experience with another very safe portal of the country of destination, who also wants to know if you had fever yesterday, and if you can give them all your personal data once more. Although we know very well that in our case, they already have them from BA who is required to share them with the Spanish authorities before check-in or you cannot fly to Spain.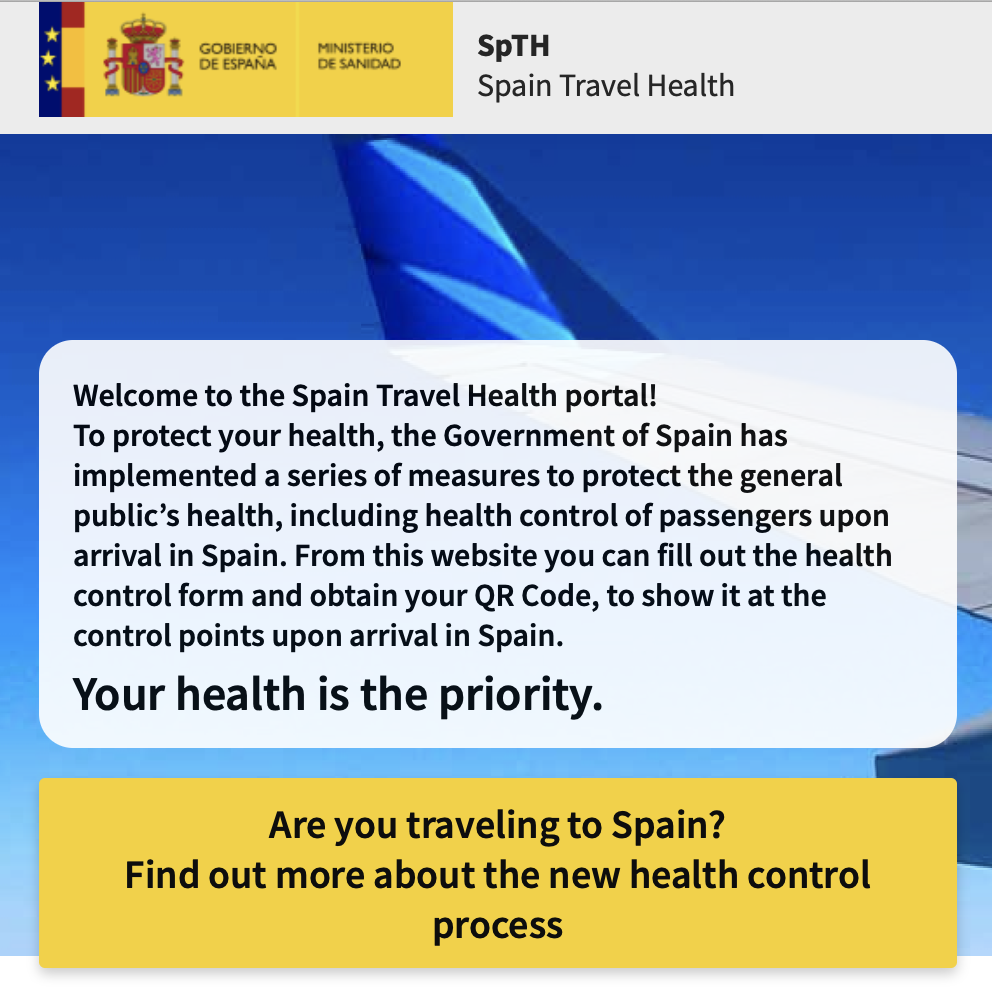 So here we go again, filling more forms with the same information, but this time in a Spanish website. I am very aware of the kind of user friendliness of Spanish governmental websites, as I have to declare my taxes there every quarter (well, at least I used to when we had a rental activity...). To declare your Spanish taxes, you need to do it with Firefox version 68 (later versions, being more secure, are not allowed 😂) otherwise it will not let you in. You cannot use Chrome, Safari, another version of Firefox, and thanks god Internet Explorer either. Then, the website will regularly crash with error messages such as "code 48 error" which makes you wonder if they really care...

But I have good news. The website for registering a travel to Spain (https://www.spth.gob.es) works on most browsers. And as it says, it was made to protect my health, so there is no excuse for not registering in there. The interface got a relooking probably in 2002, but it is functional. To my amasement, I somehow managed to get through it after a few try and error, and passed what I thought was their last barrier to entry, the infamous captcha!
Well, the captcha was not the last barrier, because after this I got asked to login to get a QR code. What they ask is this: Login ID and password. At this stage, you wonder what you did wrong... What is my ID (maybe my passport number?).
But most importantly, what is my password???
Of course I tried various combinations which led me nowhere. By the time I re-registered / retried the whole process, I received an email from them (in my spam box of course, where else!) detailing what my ID and password are, with a "secure link" to complete my registration. For sure,
whoever invented this process has not tried to check in a few hours before flying
! The email states that
my ID is either "my Passport number, DNI, NIE or Personal ID number"
(thanks for being precise), and it encloses my password twice in the text, probably in case I forgot what it was when I got to the bottom of their long email... It also says prominently that my
form identifier
is "bebd7e76-4ef8-474c-95ec-4ba873e4d6a3" (I changed a few letters for my privacy protection in there, but you get the picture). Now, what is my form identifier used for? I have no idea... But the government seems very clear that I should keep this code safe as it is written twice right in the middle of the email.
Dear friend, do not fear nor despair because we are nearly there. By logging in with my ID and password, I could then ask for my QR code (why didn't they send me the QR code in the first place, don't ask!). So a few minutes later,
I received QR codes in my mailbox 😅
, one for my wife, one for myself. They added that I should destroy my QRcode after it is shown to health control, and that "I pledge that I will contact the health authorities of the autonomous region in which I am by telephone", but they will not give me this phone number...
Now that the multi-country registrations were done, I could finally go to
check-in online and get the boarding passes
. My wife and I share the same nationality, place of residence, same place of living, and same travels in the past 6 months at least. And since I booked a ticket for two, we also share the same destination 😉. I managed to get my boarding pass in a relatively easy way.
But I could not get hers
. The intimidating message in red bold was all I could get. With a helpful
"You will be unable to fly without the correct travel documents."
And another very helpful
"Unfortunately, we cannot help you resolve issues regarding passports and visas".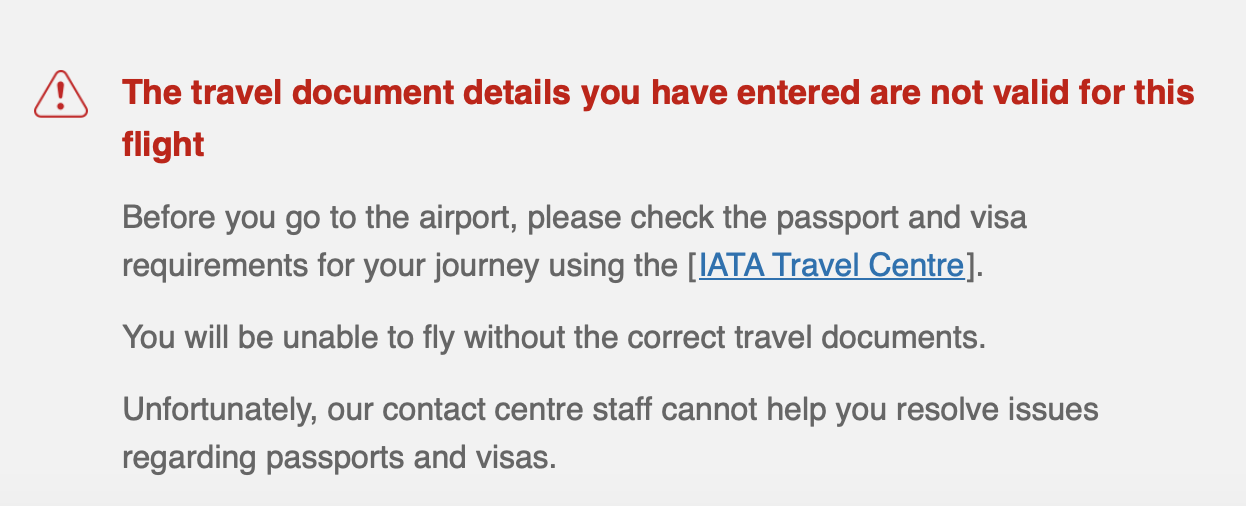 Covid time is making life harder for travelers it would seem... I tried many times, with variations on names on passport (middle name, no middle name), re-registration to IATA travel which again said "welcome and all good" at the end of a 3 pages re-registration process... But nothing seemed to work. So we decided to "take our chance" and went to the airport with one boarding pass and two masks 😷.

In the safe assumption that automated machines will also politely reject our second ticket check-in, we went straight to a "human interaction". The lady looked at the situation, and saw on her system that the issuing of the second ticket was indeed blocked. She tried to contact support (wherever they are) from her phone desk, but it rang with no-one to be heard. At this moment, she started to get minded to override the system, and issue the ticket anyway 🙏. It is always good to know that humans can override stupid systems from time to time 🤗. But then bad luck stroke!

For some reason, the 10min we spent together trying to resolve our little problem got her into extra time. Her shift was done, and another lady came in to replace her. Not that she wanted to leave, but now that they were two on the case, there was not going to be a free pass with an override of a stupid machine 🤦. So we are back to re-explaining the situation, having again a mutual agreement between the four of us that this is not making sense, and calling back the mysterious support line. By luck, the support line answered after some time. And the magic got revealed!

The system had determined that my wife, with a French passport (like me) had to be living in France, and not in the UK. There is no field to enter the country of residence of travellers with yourself when you book for them. So the stupid system determines that they must live in the country their passport originated from. In normal times, who cares, but in Covid19 times, that is a great deal! We discovered that had we been French resident flying from UK to Spain, unless a compassionate human bypassed the machine, we would not have been able to fly. Fortunately, this was not our case as we are UK resident. So with the blessing of the hotline support, the lady assistant corrected the field of residence of my wife and confirmed that she lives in the same country as I do 🙄, and miraculously... we got the second check-in from the system, all without any human override of covid policies 😇.
This is where we are allowed to venture inside 🤫, and discover what the largest airport in the UK looks like during Covid. Going through the baggage screening was nearly a better experience than in the past, since there were many lines open and not too many people queueing, so we went through this fairly quickly.

Then, just as you get out of the screening, you stare at what a covid-times airport looks like. So few people and so many chairs "covid-blocked". Everybody was wearing a mask, although it is plainly obvious that Western Europe is not a part of the world where mask wearing has been practice from childhood. And let's not even talk about the etiquette of mask wearing in public...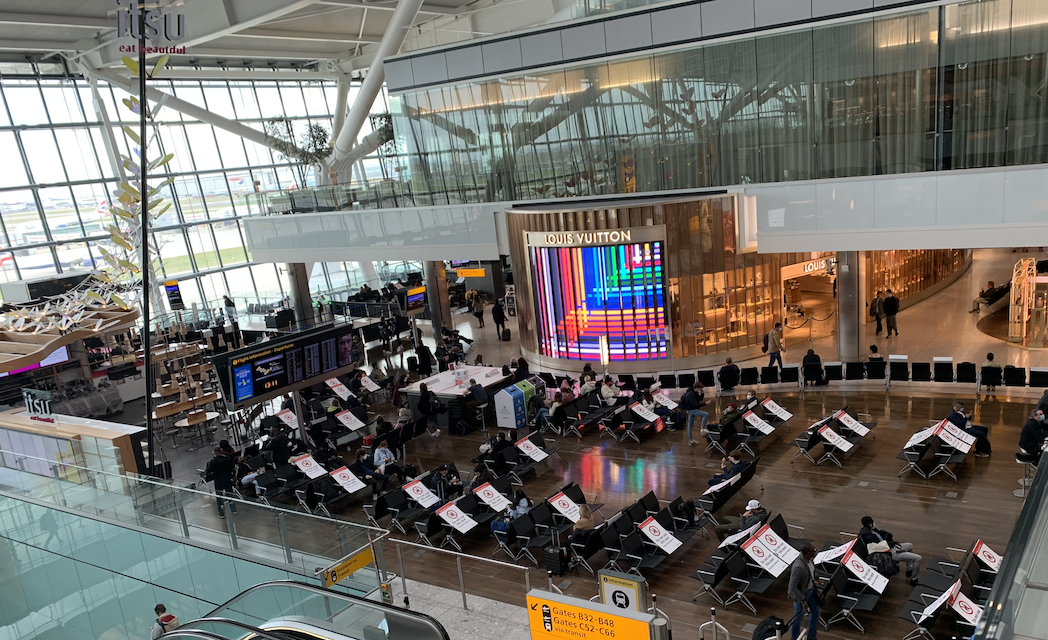 As I has a bit of time to kill, I went back to the BA office desk and asked about my voucher for the cancelled March flight. After a few explanations and re-explanations, the lady at the desk decided to call the now famous support line, which at this stage is starting to be as close to God as we can think of. It only took a few more minutes and they issued me with a voucher code, which was apparently issued for a value exceeding by £10 what it cost me to buy my tickets back in March. Oh well, that must be inflation...you lose some and you win some... 🤗 So it seems that I won at the third barrier (although I have not yet tried to use the voucher).
What next? 🤔 I am sure that you want to know what the male toilet experience is, so here it is in plain sight... One out of two of those urinals are covid-blocked, so that you do not pee too close to each other 😱. Even the wash basins are covid-blocked too, one out of two.

I have not yet assessed if the toilet experience is better now than it was in the past, but for sure, there are other positives to take.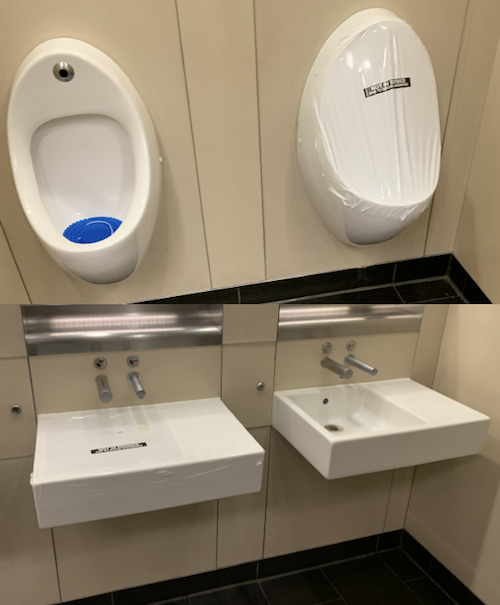 First, I have not seen a delayed flight on the flight board. Mind you,
all flights on time at the busiest UK airport 😎
! Also, we embarked in a very orderly way, the end seats first, called 10 rows by 10, until the first class got called last 😂. Incredibly, this is speeding the boarding process as nobody has to wait the privileged ones to pack their stuff first in the first 5 rows of the plane. And then, we were not told
"sorry we will taxi for the next 20min"
. No, none of these nonsense of the past.
We boarded on time, we flew on time
, and therefore... like by magic...
we landed ahead of time 🥳
.
As for the flight experience, I must say that apart from the inconvenience of wearing the mask at all times, it was better than in the past.

It was better because although you purchase a relatively cheap ticket for flying in second class, their put you in the biggest plane they have (at least 200 people capacity) to then fill only one seat out of three... So you do not feel congested, you do not have babies crying in your ear from the seat behind for 3 hours long, and you have a rather enjoyable experience.

I must say that I have rarely enjoyed being served a pack of crisps more than yesterday. Because to eat the crisps... you are allowed to take your mask off 😂.

Now, with the crisps, they also serve you with another same version of long list of information to fill for the spanish government, the same that you had to fill-in online before, and for which we ultimately received our QR codes. I only show you page one, there is another page two to fill... At this point, I wanted to cry... I filled up the form once more, but discovered when we landed that it was not useful as I had the magic pass: the QR code!

Then we landed, as I mentioned already a little bit ahead of schedule.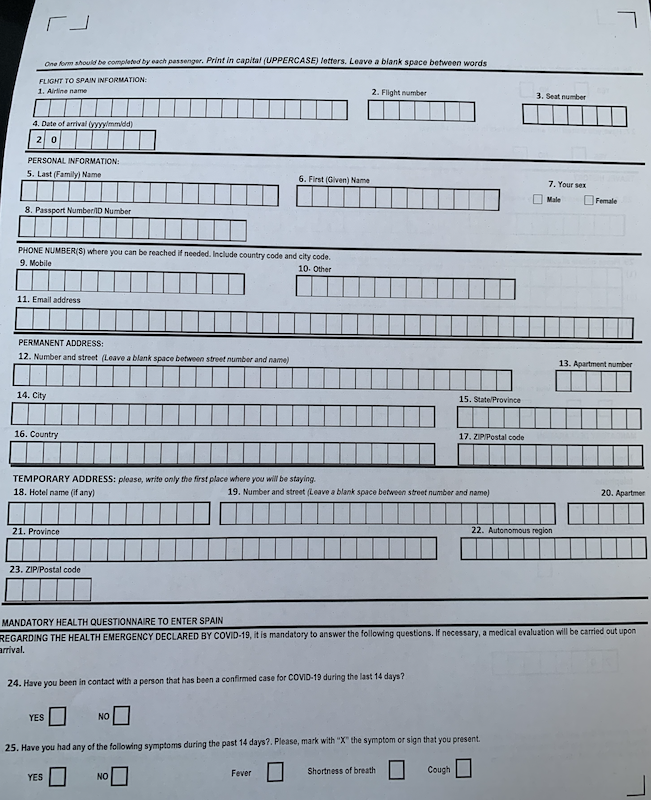 We went through the passport control very quickly, although there was another separate line from a different origin (out of Europe) which had a line of around 200 people queuing on top of each other. Did anyone say "2m rule"?? Did anyone even say "rule" by the way? 🤭

Well, just after a quick passport control, we had the joy to put our QR code to good use and skip the queue of all those people who had missed the opportunity of filling their information online, missed the opportunity of filling their information on flight, and had to do it now in a vague setup where they would be slightly isolated from each other but queuing in packs anyway... 🙃

So in the end, even if the QR code was a real pain to obtain, I recommend doing this for the ease of getting out of the airport by the fast lane. Also, as soon as our QR code got scanned, we got an email notification of the famous phone number to call in case of symptoms. I finally start to believe there is a value in this weird system 😂.
Of course, I cannot leave you without sharing my Spanish airport toilet experience, which somehow does not seem as covid-compliant as the UK one 😮. Looks like here we can still pee on each other's toe, they just put a "sponsored panel in between".

Do not think for one minute that I am a toilet freak, but I have been accustomed to think that you judge the quality of hotels by looking at how well they attend their public toilets. There is a lot revealed in such attention to detail. 😮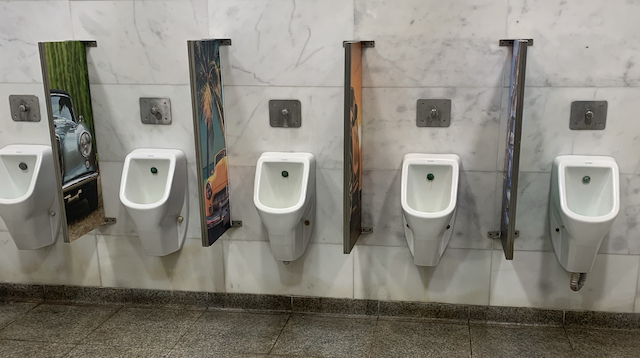 Anyway, a few minutes later, we discover that the distancing rule in Spain is 1.5m (not the 2m in place in the UK). How could this be? Maybe people are shorter? Or is this Brexit ahead of its time? 🤷

We exited the airport shortly and took a taxi ride to the villa. €15 for two with two baggages. I never had it so cheap! The morning after, I had the pleasure of having a quiet coffee on the sunbathed top terrace. Moments like this make you put aside the smaller and greater challenges that one encounters in life. In the end,we all come here to cherish those moments.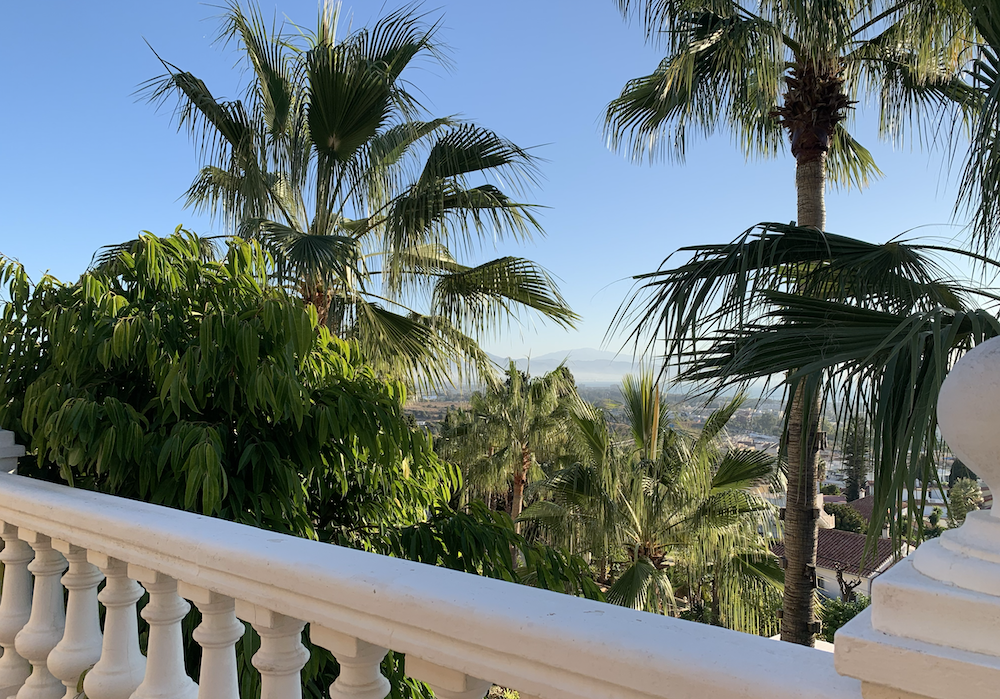 I hope you enjoyed this shared experience and that it made you smile somehow.

If you are interested in booking your next holiday at Villa Panorama, please contact Eric directly (info [at] villapanorama [dot] net). These are challenging times, but we are fully operational and welcome our guests with even more love than ever before.

Until then, stay safe and practise online form filling for when the time comes 😂.